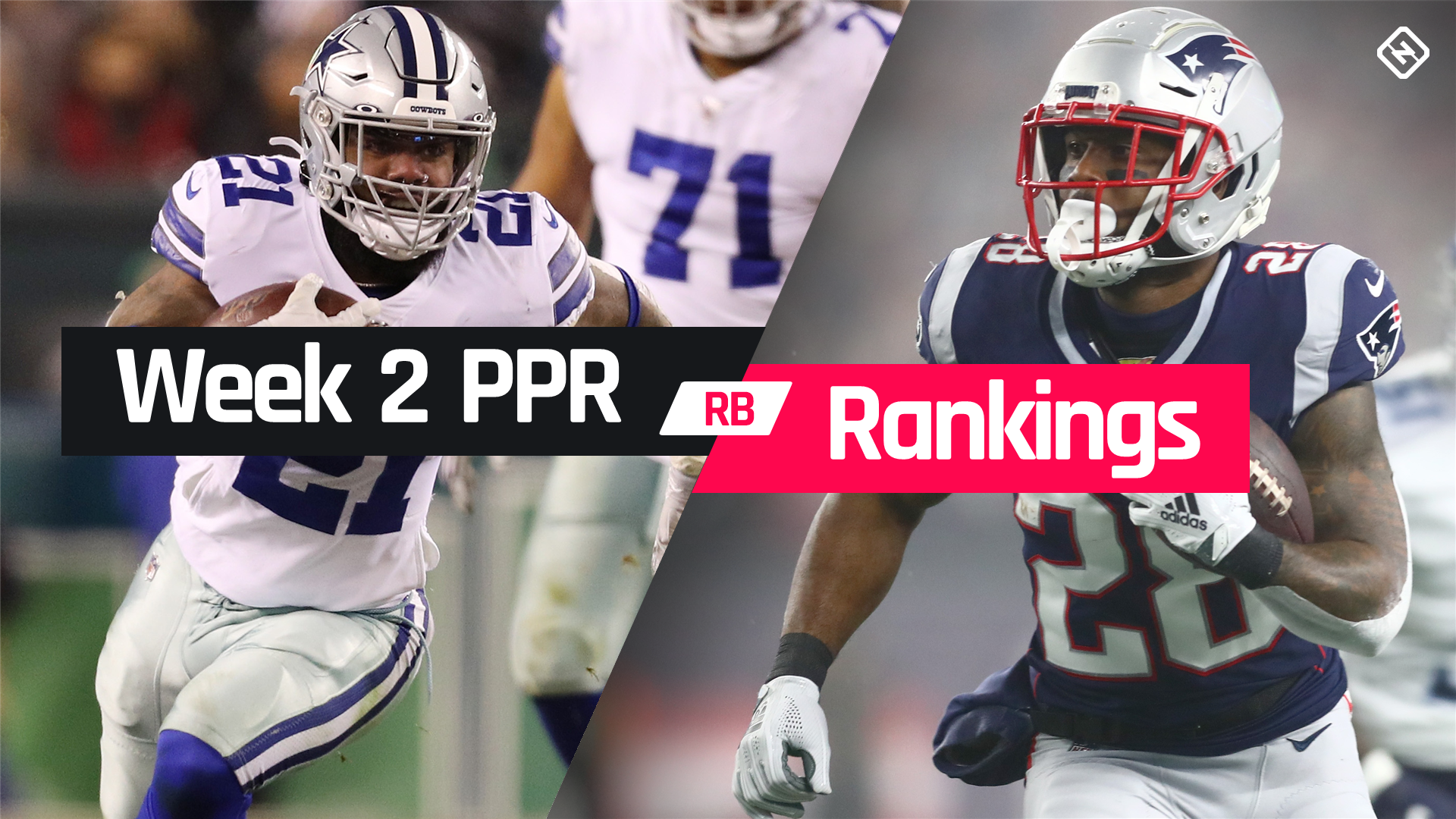 Week 1 was a bit of a surprise for some of the best backs in the NFL. Austin Ekeler had only one goal; Tariq Cohen saw only two goals throughout the game; despite Chris Thompson not finding much of a target with a back-to-back Jaguars finish. Towards the second game of the season, it will be interesting to see if these goals calm down or the backward areas continue unabated. Regardless of what we learn in the future, Week 2 of our RB PPR fantasy series is hard to put together right now.
Obviously, injuries affect here. Marlon Mack's Achilles tendon will climb Jonathan Taylor and Nyheim Hines in the rows this week. Both were found in week 1 to be a good passer-by, and formed a minority committee with two good receivers.
FRIENDS 2 RANDKN STANDARD:
Quarterback | Run backwards | Extensive receiver | The end is tight | D / ST | Kicker
The other rises are the usual "backstage". After Nick Chubb ran and scored six goals, Kareem Hunt is RB2 this week. In the meantime, Ekeler remains at the top of the lineup in a qualifying match against Kansas City, but Cohen, James White, and Jerick McKinnon will all be soft-spoken.
HEFT 2 RANKINGN PPR:
Quarterback | Extensive receiver | The end is tight | D / ST | Kicker
For the back to go down, Derrick Henry is our last for standard 1, but he drops a few minutes because he does not do much in the receiving game. Nick Chubb enters RB2 territory due to the presence of Hunt in the passing game. Further even further, Sony Michel and Adrian Peterson are a bit down because both White and D'Andre Swift are there to get them out of the transition game.
HEFT 2 LINES TOURANA NFL DFS:
Yahoo | DraftKings | FanDuel
Reminder: Return weekly for updates. For a personal analysis of the major RBs, click here.
HEFT 2 XET LN CASHN NFL DFS:
Yahoo | DraftKings | FanDuel
Week 2 Fantasy RB PPR Series
These rankings are for all PPR leagues.
WEEK 2 DFS: Better files | Better values | Lineup Builder
| | |
| --- | --- |
| China | Actor |
| 1 | Christian McCaffrey, CAR @ TB |
| 2 | Saquon Barkley, NYG @ CHI |
| 3 | Ezekiel Elliott, DAL vs. ATL |
| 4 | Alvin Kamara, NA @ LV |
| 5 | Aaron Jones, GB Vs. THAT ONE |
| 6 | Clyde Edwards-Helaire, KC @ LAC |
| 7 | Dalvin Cook, MIN @ IND |
| 8 | Josh Jacobs, LV vs NA |
| 9 | Austin Ekeler, LAC vs. KC |
| 10 | Derrick Henry, TEN vs. JAX |
| 11 | Jonathan Taylor, IND vs. MIN |
| 12 | Todd Gurley, ATL @ DAL |
| 13 | Kenyan Drake, ARZ vs. |
| 14 | Joe Mixon, CIN vs. NYG |
| 15 | Raheem Mostert, SF @ NYJ |
| 16 | Miles Sanders, PHI vs. LAR |
| 17 | David Johnson, HOU vs. BAL |
| 18 | Nick Chubb, CLE vs. CIN |
| 19 | Chris Carson, SEA vs NE |
| 20 | Kareem Hunt, CLE vs CIN |
| 21 | Melvin Gordon, DEN @ Pit |
| 22 | Benny Snell Jr., PIT Vs. DEN |
| 23 | David Montgomery, CHI vs. NYG |
| 24 | Devin Singletary, BUF @ MIA |
| 25 | Mark Ingram, BAL @ HOU |
| 26 | Nyheim Hines, IND vs. YA MIN |
| 27 | Malcolm Brown, LAR @ PHI |
| 28 | Ronald Jones II, TB vs CAR |
| 29 | JK Dobbins, BAL @ HOU |
| 30 | James White, NE @ SEA |
| 31 | James Robinson, JAX @ TEN |
| 32 | Antonio Gibson, WAS @ ARZ |
| 33 | Tarik Cohen, CHI vs. NYG |
| 34 | Zack Moss, BUF @ MIA |
| 35 | Cam Akers, LAR @ PHI |
| 36 | Andre Swift, DET @ GB |
| 37 | Adrian Peterson, DET @ GB |
| 38 | Sony Michel, NE @ SEA |
| 39 | Peyton Barber, WW @ ARZ |
| 40 | Boston Scott, PHI vs LAR |
| 41 | Jerick McKinnon, SF @ NYJ |
| 42 | Myles Gaskin, MIA and BUF |
| 43 | Royce Freeman, DEN @ PIT |
| 44 | Joshua Kelley, LAC vs. KC |
| 45 | Latavius ​​Murray, NA @ LV |
| 46 | Alexander Mattison, MIN @ IND |
| 47 | Leonard Fournette, TB vs CAR |
| 48 | Frank Gore, NYJ Vs. SF |
| 49 | Jordan Howard, MIA and BUF |
| 50 | Jaylen Samuels, PIT vs. DEN |
| 51 | Tevin Coleman, SF @ NYJ |
| 52 | Chris Thompson, JAX @ TEN |
| 53 | Chase Edmonds, ARZ vs. |
| 54 | Josh Adams, NYJ Vs. SF |
| 55 | Kerryon Johnson, DET @ GB |
| 56 | Darrel Williams, KC @ LAC |
| 57 | Carlos Hyde, SEA vs NE |
| 58 | Matt Breida, MIA vs. BUF |
| 59 | Tony Pollard, DAL vs. ATL |
| 60 | Jamaal Williams, GB vs. THAT ONE |
| 61 | Devontae Booker, LV vs NA |
| 62 | JD McKissic, WAS @ ARZ |
| 63 | LeSean McCoy, TB vs CAR |
| 64 | Corey Clement, PHI vs LAR |
| 65 | Young Bernard, CIN @ CLE |
| 66 | Brian Hill, ATL @ DAL |
| 67 | Dion Lewis, NYG @ CHI |
| 68 | Rex Burkhead, NE @ SEA |
| 69 | AJ Dillon, GB vs DET |
| 70 | Jalen Richard, LV vs NA |
| 71 | Darrell Henderson, LAR @ PHI |